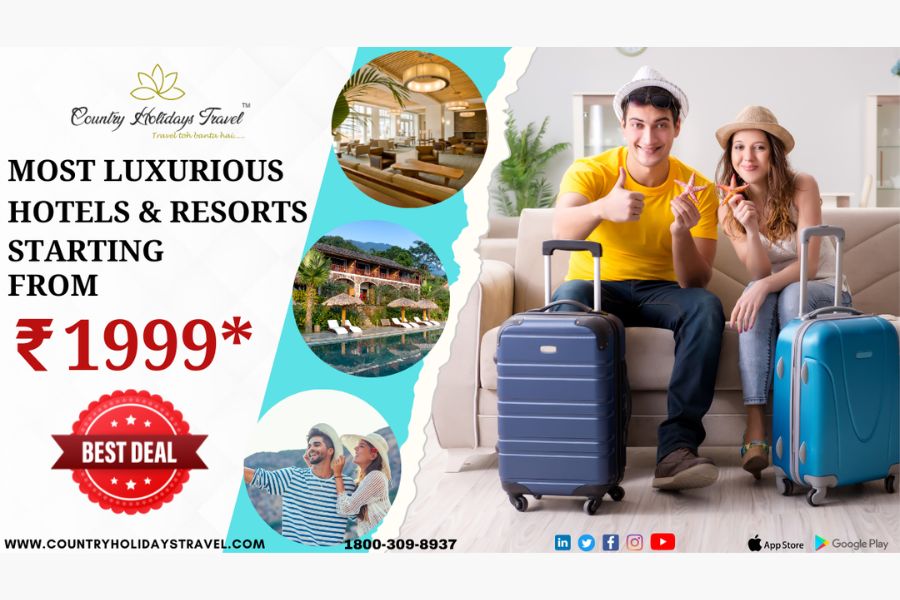 Country Holidays Travel India launches unbeatable hotel booking offers
New Delhi (India), May 8: Are you tired of endlessly scrolling through multiple travel websites in search of the perfect hotel room at an affordable price? Look no further because Country Holidays Travel India is Introducing a New Hotel Booking Process launched at a Price Starting from Rs. 1999*.
Country Holidays Travel India is launching a new hotel booking platform which will offer members an unbeatable price starting from just Rs. 1999* for their stay at the best hotels across the country & abroad as well. Whether you're planning a family vacation or a business trip, their platform has a wide range of hotel options to cater to your needs. Not only vacation or holiday plans, but members can also avail of the services of banquets for their anniversaries, birthday, weddings and other events for memorable and luxurious experiences.
Country Holidays Travel India's user-friendly platform allows you to easily search for and book your preferred hotel room with just a few clicks. With a range of filters, including price, location, and amenities, finding the perfect hotel room has never been easier. Additionally, their platform offers you the ability to compare prices from various hotels to ensure that you're getting the best deal.
Country Holidays Travel India understands that booking a hotel room can be a stressful experience, especially when it comes to payment. That's why they've made it their priority to provide you with a secure payment platform that guarantees your safety and peace of mind. Our payment system is quick, efficient, and hassle-free, ensuring that you can focus on planning the rest of your trip.
Furthermore, Country Holidays Travel India's customer support team is available 24/7 to assist the public queries or concerns that you may have. Whether you need help with booking your hotel room or have a question about your dream destination, their team is always there to help.
In addition to CHT's affordable prices and easy-to-use platform, they also offer a loyalty program for their regular customers. Their loyalty program allows you to earn points with each booking, which can be redeemed for discounts on future bookings.
One of the key features of this new hotel booking platform is its user-friendly interface. The platform is easy to navigate, and booking a hotel is a breeze. All you need to do is enter your destination, travel dates, and budget, and the platform will do the rest. You'll be presented with a list of hotels that match your criteria, and you can choose the one that best fits your needs.
Another great feature of this platform is its transparency. The platform provides detailed information about each hotel, including its location, amenities, and customer reviews. This allows you to make an informed decision when booking a hotel, ensuring that you get the best value for your money. The platform also offers great deals and discounts on hotels, making it even more affordable for travellers. Whether you're looking for a last-minute deal or planning your trip in advance, you're sure to find a great offer on this platform.
Overall, the new hotel booking platform is a game-changer for travellers who are looking for affordable and high-quality accommodation. With its user-friendly interface, transparent information, and great deals, this platform is set to become the go-to option for all your hotel bookings.
Country Holidays Travel India believes that everyone deserves a comfortable and affordable stay, which is why they are excited to launch their new hotel booking platform. With their unbeatable prices, secure payment system, and excellent customer support, they're confident that you'll have an unforgettable experience.
So, what are you waiting for? Book your hotel room today and experience the best in travel accommodation with Country Holidays Travel India!
If you have any objection to this press release content, kindly contact pr.error.rectification[at]gmail.com to notify us. We will respond and rectify the situation in the next 24 hours.